'It's all over. You're done': Jury delivers not-guilty verdict in Piapot First Nation murder trial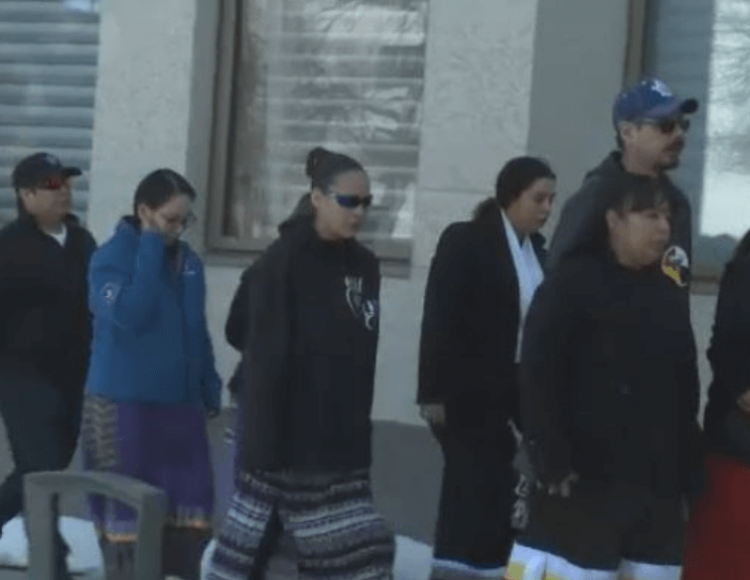 [The Accused] wept Friday morning as a Regina jury declared her not guilty of second-degree murder.
She was accused of second-degree murder in the fatal stabbing of Justin Crowe on Piapot First Nation in Saskatchewan in October 2015.
Prior to the verdict, Court of Queen's Bench Justice Jeff Kalmakoff urged those in attendance to do their best to remain calm. But members of Crowe's family and their supporters erupted in anger when it was delivered. 
They screamed and swore at [the Accused] until they were physically escorted from the courtroom. 
They could still be heard yelling in the hallway as Heather Ferg, one of [the Accused]'s lawyers, reassured her after the verdict.
"It's all over," Ferg said. "You're done." 
The 23-year-old hugged her lawyers and her family members, who also wept. 
Several members of the Regina Police Service were called to the court as a precautionary measure. Kalmakoff declined to bring the jury back into the courtroom to thank them, as is typically done at the end of a trial, because of the heightened emotions in the room.
"You are free to go," he told [the Accused]. 
Crown prosecutor Mitchell Miller said it's not unusual to see strong reaction after a murder trial and said his thoughts are with the Crowe family. 
"We have to remember that they have lost a loved one and it's a very emotional time for them," he said. "Hopefully they can move on from this now that there's been a decision."
Argued self-defence
Crowe, 27, was stabbed once in the heart on Oct. 27, 2015. [The Accused] testified that she did stab Crowe but said she had done so in self-defence. 
Miller said the Crown didn't believe self-defence was a valid defence in this case, but ultimately the jury decided differently.
The night that ended in Crowe's death began in Regina at [the Accused]'s apartment, where she had been hanging out with her teenage cousin Raina Joyea, who has since died.
[The Accused] invited Tyra Nahbexie, an old acquaintance, over after the two connected on Facebook. Nahbexie brought Crowe and three others over. 
The party of seven were kicked out of the apartment and subsequently ended up at Crowe's family home on the Piapot First Nation, just north of Regina.
[The Accused] testified that she and her cousin intervened when Crowe physically attacked another woman at the party. She told the court Crowe violently attacked and badly injured her cousin by banging her head on the concrete outside the house. 
She said when she went inside to get her phone to call for help, Crowe confronted her and began to choke her. In her testimony, she said she was scared and didn't know what he was going to do next. 
[The Accused] said she didn't mean to kill Crowe.
During the trial, court heard that strands of long, black hair found in Crowe's hands post-mortem were not tested, and only one drop of blood was tested in the home where the stabbing happened, despite the kitchen being covered in blood.
The jury began deliberations just before noon on Thursday following a three-week trial.
Thursday evening, they asked to hear Henry Thorn's testimony from earlier in the trial. He was one of Crowe's best friends and an eyewitness to the stabbing, although he testified he couldn't remember parts of the night in question due to intoxication. 
The jury began Friday morning by continuing to listen to testimony, and delivered their verdict mid-morning.  
"There is no question that what happened was devastating for everyone involved," said Ferg in an emailed statement. 
"[The Accused] and her family are ready to start moving forward and focus on their healing."
CBC NEWS 
Written by: Kendall Latimer
---
---