Man pleads guilty to coaching friend to repaint car sought in Calgary murder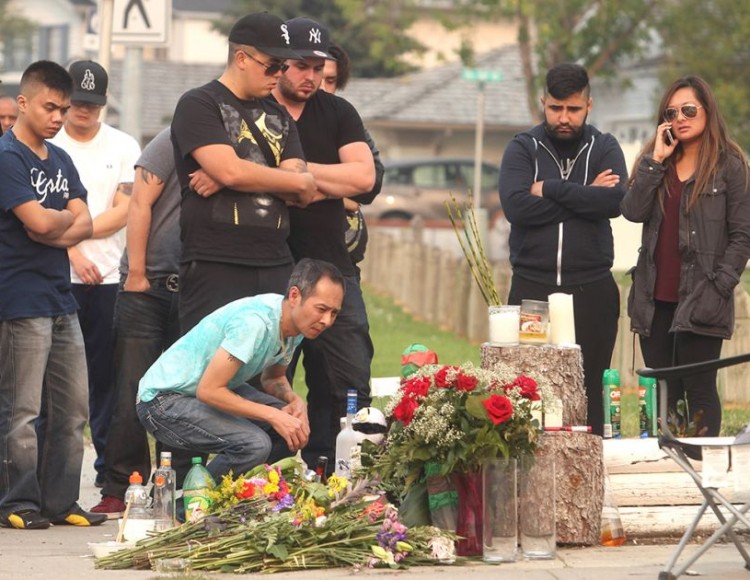 Helping his friend conceal a car wanted by police in connection with a gangland-style murder has landed a city man a conviction for attempting to obstruct justice.
[The Accused] pleaded guilty Friday for his role in trying to keep police from finding a vehicle sought in connection to the murder of David Quach.
Quach was slain on Aug. 22, 2015, when a gunman approached him as he sat in his vehicle parked on California Blvd. N.E. and shot him seven times.
Reading from a statement of agreed facts, Crown prosecutor Adam May said a Honda Accord registered to Mohamed Al-Hamrany was used to transport convicted murderer Said Abdulbaki to and from the scene.
"CPS located a residential security camera that recorded the Honda Accord shortly before the murder," May told Court of Queen's Bench Justice Keith Yamauchi.
"The recording showed that the Accord had a distinct appearance with the overall colour of the car being silver, but the driver's door painted  black."
After police issued a photo of the car to the media and conducted a Crime Stoppers reenactment wire taps picked up conversations between [The Accused] and Al-Hamrany, May said.
Those intercepts indicated [The Accused] told Al-Hamrany how to disguise the car to avoid police discovery and offered to assist in painting the car, the prosecutor said.
"A CPS helicopter observed and video-recorded a tow truck unloading Mr. Al-Hamrany's Honda Accord onto a property at 7 Sage Hill Gardens N.W. on Nov. 21, 2015," May said.
On Jan. 5, 2016, police searched the home. "They located Mr. Al-Hamrany's Honda Accord under a tarp," he said.
"The car was painted all black."
A date for sentencing submissions by May and defence lawyer Ian McKay will be set Oct. 31.
[The Accused] remains in custody.
Last month Abdulbaki was sentenced to life without parole for a minimum 10 years after pleading guilty to his role in Quach's killing.
Abdulbaki admitted going there with the gunman to rob Quach, not knowing that he would be shot.
CALGARY HERALD
Written by: KEVIN MARTIN
---
---